As a result of an unrelated incident outside of the WASD school district, we have been advised by the Pennsylvania State Police to go into a lock down. All WASD students are safe but transportation will be delayed. We will provide an update once we are given direction from the Pennsylvania State Police. Thank you!

After lengthy discussion and thought with the WAMS C4K committee, we have made the difficult decision to cancel the 2021 C4K Jingle Bell 5K. We want to thank all our past participants for their unwavering support and encouragement. We look forward to returning in 2022 with a 10 year celebration of supporting our kids here at WAMS. Mark your calendars now for the 2022 Jingle Bell Run ~ Saturday, December 10 at 9:00 a.m.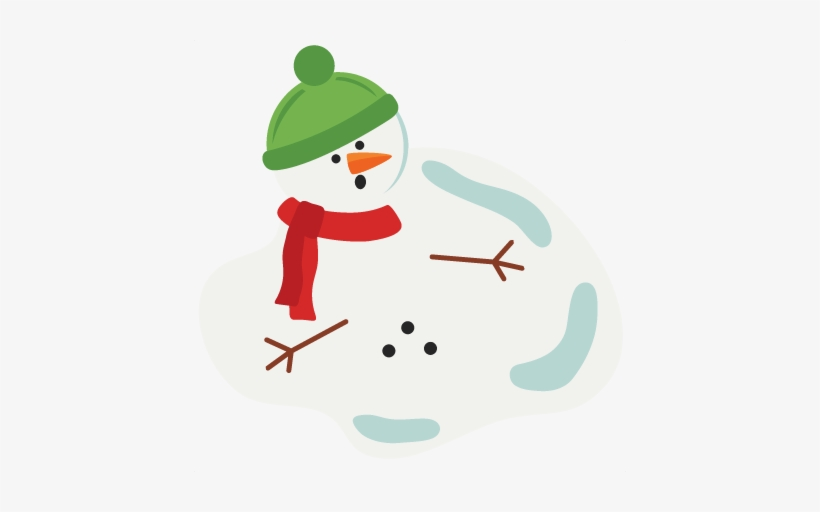 Congratulations to Ella Lowry, WASHS senior, for placing second in the Mid Penn District Golf Match! (Pictured here with Coach Henderson)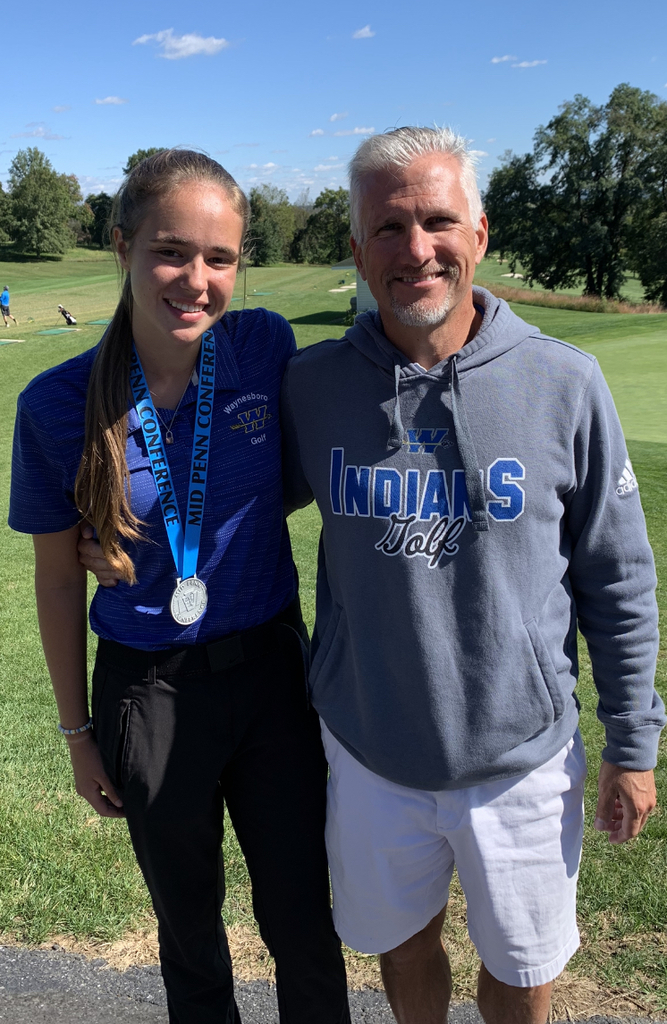 The 10th annual WAMS Walkathon will take place Friday, October 1st. Participating students will walk to the WASHS track and participate in the Walkathon. After students have completed the laps around the track, students will walk to Memorial Park for lunch with a chaperoning teacher. Students will be able to choose from a variety of food vendors and food trucks at the park for lunch. Students should bring $10 for lunch. In order to participate in the 2021 WAMS Walkathon, students must raise a total of $25 or more in donations. Please make the check payable to WAMS Interested Parents. The top three fundraising students for the 2021 WAMS Walkathon will also receive a prize for their efforts. First prize for the highest earner will be a $150 gift card, second prize will be a $75 gift card and third prize will be a $50 gift card. Questions? Call the WAMS Office at 717-762-1191 ext 1306. Thank you in advance for your support! Please note the rain date for this event is Monday, October 4, 2021.


A message from Food Services-Please note: Menus are subject to change based on availability of products. Due to shortages in production staff to produce products and truck driver shortages to deliver products, we are experiencing many menu shortages and changes. Thank you for your patience and understanding as we work through these challenges.

General Education Development classes are held on Tuesdays and Thursdays from 6:00 PM to 8:30 PM at the Waynesboro Area Senior High School (entrance is through the courtyard where signs are posted). To sign up, please attend a class and complete paperwork and pre-assessment. Classes start Tuesday, September 14th!

Tomorrow, Wednesday, September 1, 2021 The Waynesboro Area School District will be closed due to inclement weather. The make-up day will be February 21, 2022.
Transportation information is now available in the Sapphire Community Web Portal under student information.  Additionally, all issues with the Student Schedule view for WASHS and WAMS learners are resolved. If you are experiencing issues logging in, please clear your web browser/cookies. Additionally, there is a how-to guide on the district website under Explore > Documents > Parents > Community Web Portal that will show you how to update your portal if you have not done so. Thank you!
Hello Waynesboro families, The "Current Schedule" feature in the Sapphire Community Web Portal is still down.  The Data Department has been in contact with programmers and developers at Sapphire in regards to the situation, it is a company wide issue for Sapphire, and they are working diligently to fix the problem.  Additionally, we are not the only district affected by the interface switch over with certain features.  As they work through these issues and things become available, the District will post and update on our website, social media and through a Boro Blast.  We are also aware of new account creation issues and Sapphire is working through that as well.  You can still see your learner's schedule on the left hand side under "Courses and Grades" for learners in grades 6-12.  Classroom teachers can be viewed by selecting "Student Information" for learners in grades K-5.  We appreciate your patience and understanding as Sapphire works through these issues as they improve the Community Web Portal experience. Thank you.
The Community Web Portal is now open. WAMS and WASHS learners can see their classes under Courses and Grades. The color scheduler will be available to learners tomorrow. All learners should be able to see their homeroom teacher under student information. Transportation routes will be coming soon. If you have trouble accessing your portal, please reach out to your building secretary tomorrow morning. Thank you!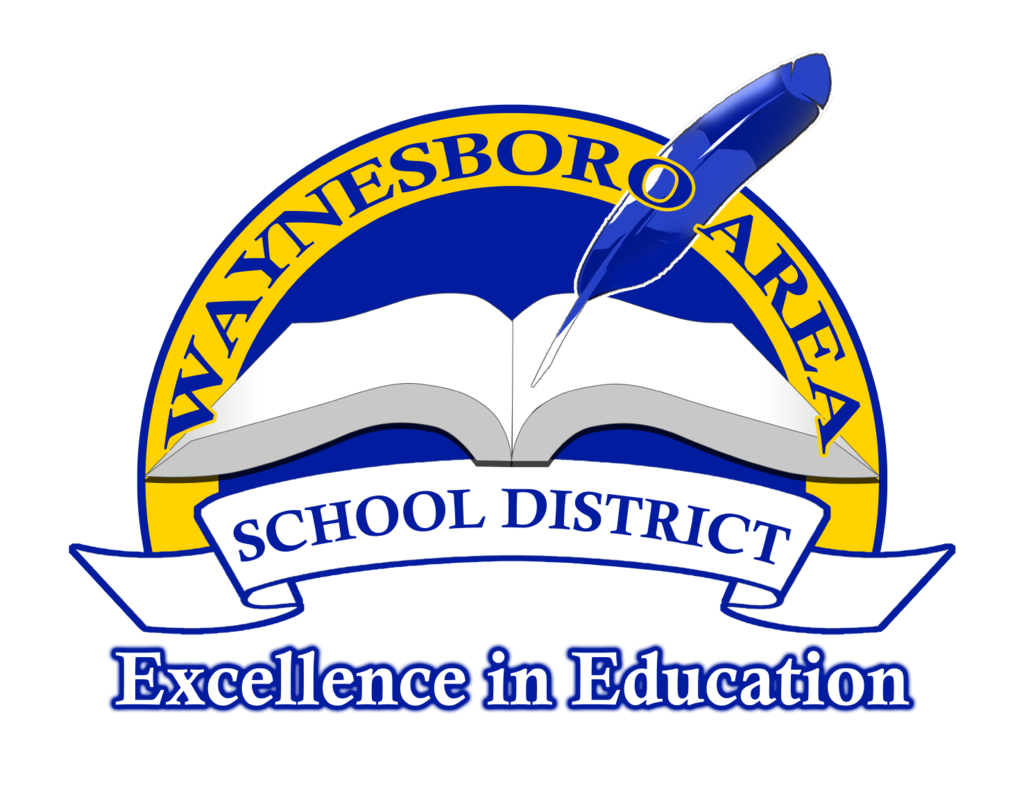 WASD Special Education & Student Services invites you to Alma's Beneficial House Grand Opening& Ribbon Cutting Ceremony. Location: 324 West 4th Street, Waynesboro, PA Date: August 24th at 3:45 PM

Come visit us today at our WASD Onsite Job Fair.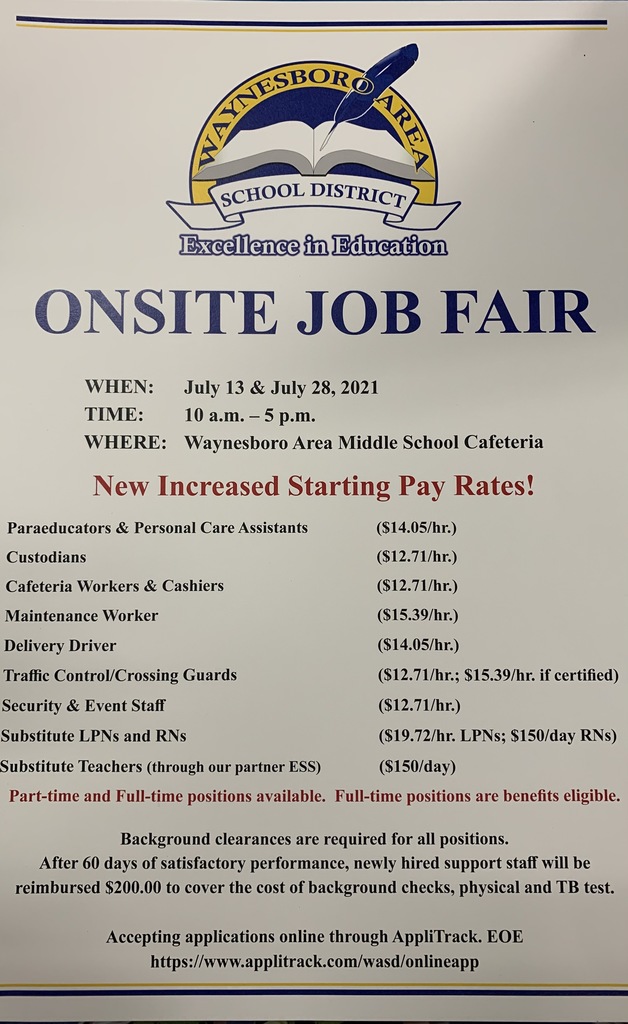 As a result of interest and successful learner enrollment in our First Choice - Virtual Instruction Program (FC-VIP) WASD will be extending the enrollment period until Monday, August 16th. #fcvip

Are you interested in WASD's First Choice Virtual Instruction Program (FC-VIP)? Do you want to learn more about FC-VIP? Join us for one of our upcoming informational sessions. Visit the FC-VIP information under the news section of the WASD webpage for more information.


WASD is happy to announce that we are going to be providing a modified re-enrollment process if you are interested on June 1, 2, and 3, 2021, from 7:30 am - 5:30 pm at the district office, 210 Clayton Avenue, Waynesboro, PA 17268 Below is a flyer with more information and details with what you need to bring if you are interested in this opportunity. By completing the modified re-enrollment, this will secure your child's place in a classroom and will guarantee a start back in Waynesboro on the first day. This will also eliminate you having to go through our entire enrollment process and waiting on the registrar for an appointment (which begins on July 1, 2021). If you are not interested in this opportunity or do not have plans to return, that is okay too and we wish you the very best in your child's learning endeavors. If you would like to re-enroll and you do not take advantage of the modified re-enrollment at the beginning of June, you will have to complete the entire enrollment process over the summer. If you have any questions, please feel free to reach out to
registration@wasdpa.org
and they will be happy to assist you with your questions. This modified re-enrollment is available for families who left WASD for Cyber/Charter for the 20/21 school year. If you are brand new to the district, or have attended home school, a private school, or a cyber/charter school prior to the 2020-2021 school year, you will be able to begin the enrollment application process on June 8, 2021!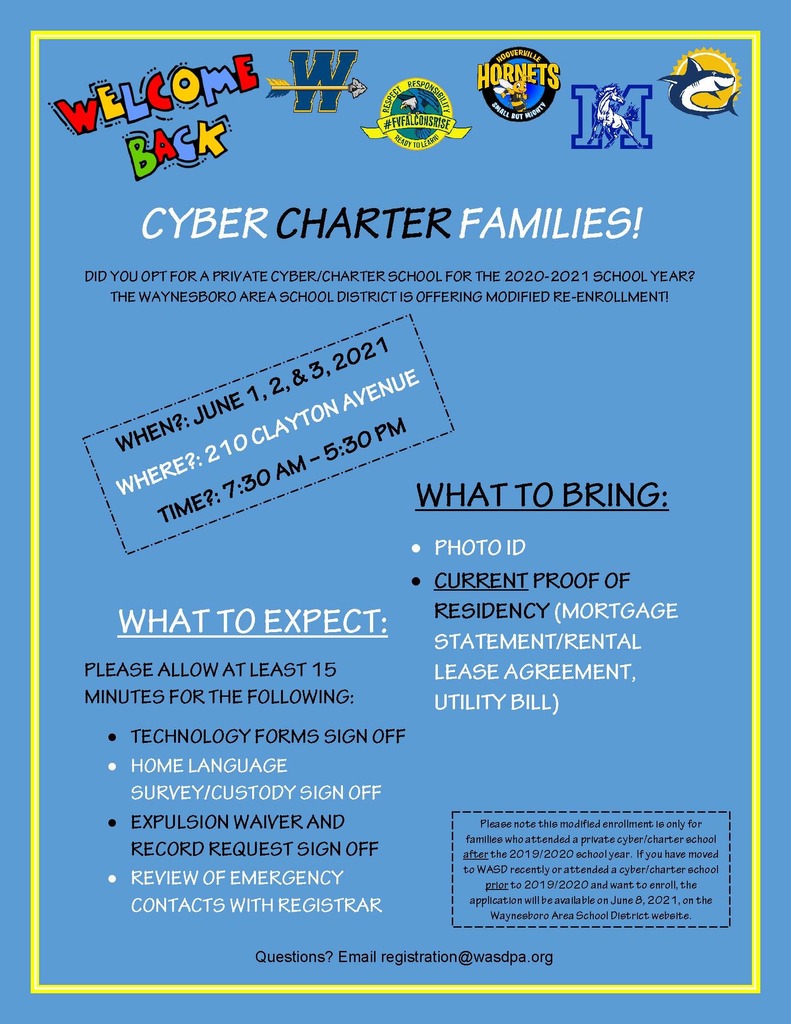 ​The WASD Committee is seeking input from our families as to how our district and our school are communicating with our families. We hope every family will take a few minutes to complete this survey in order to provide feedback on COVID-19 communications, the updated WASD website, as well as general communications from the district and your child's school. We are asking for families to complete this survey by Friday, May 7, 2021. You can access the survey via this link -
https://forms.gle/56UZKW6eJFt9qBRT9
Please contact Diane McCallum, Summitview principal and chair of the Communications Team, if you have any questions -
diane_mccallum@wasdpa.org
. Thank you in advance for your participation!

Please note: There will be no GED classes held at WASHS Tuesday, April 6th and Thursday, April 8th.

Good morning Waynesboro families! Kindergarten Registration is happening now! If you have a child who turns 5 before or on August 31, 2021, they are eligible for school this coming fall! The online application is available on the district website under Welcome to WASD, Kindergarten Registration 2021-2022. Folders with more instructions and documentation are available for pick-up at the Clayton Avenue Administration Building (210 Clayton Avenue), out front of the Main Entrance, in the weatherproof bin. Kindergarten folders are in the second drawer down and can be picked up 24 hours a day, 7 days a week. Registration staff is available today and tomorrow until 4:30 pm at the district office to assist with document scanning for Kindergarten Applications. All incoming kindergarten learners must have an online application completed in order to attend school this coming school year. If you need assistance or have questions, please reach out to
registration@wasdpa.org
. Thank you!

Please note: There will be no GED classes held at WASHS Tuesday, March 30th and Thursday, April 1st.