Dr. McCallum's Reflection of the Beginning of the School Year
Diane McCallum
Friday, September 11, 2020
The 2020-21 school year marks my 18th year in education. During those 18 years I've gotten married, had two children, and completed a few degrees and certification programs, all while working full time. I share that to say that I can't remember a time in my prior 17 years when I've used my brain more than I have preparing for the opening of our building this year. Through collaboration with the other administrators, there has been so many aspects to think through and plan for the reopening of our schools. As I reflect on the first two weeks of the year, I continue to feel a sense of pride, appreciation, and joy. For that reason, I felt compelled to share a reflection with the Summitview school community.
I am proud of our teachers and support staff who have learned numerous new strategies, tools, and programs since schools closed in March. I appreciate their openness to using different approaches when it comes to planning and delivering instruction. I also appreciate their cooperation and teamwork in helping each other with all the new things they are now putting into practice. Most of these new tools and programs are based in technology which is only possible through the amazing behind-the-scense efforts of the WASD Technology Department.
Our district superintendent, Dr. Tod Kline, puts out a weekly "Our Path to First Choice" newsletter that highlights many things we are doing in our district towards our goal of First Choice. (Click HERE if you'd like to read them each week!) One section of "Our Path to First Choice" is staff recognition that Dr. Kline refers to as "Piece of the Puzzle." WASD functions as many small "pieces" that fit together into a larger "puzzle." Staff members are encouraged to nominate each other as a Piece of the Puzzle. One person is selected each week and that person receives a special pin, hand-delivered by Dr. Kline. I am proud to share that Mrs. Diana Warren, a member of our first grade team, was the first Piece of the Puzzle recipient of the 2020-21 school year! As you can see from what was shared (excerpt below), Mrs. Warren is an example of someone who has learned many new things and has been open and willing to teach those new things to her colleagues. We are lucky to have her, and many other teachers like her, at Summitview and in our District!
This week our Piece of the Puzzle is Diana Warren - First Grade Teacher at Summitview. Diana has been nominated for her relentless help to her entire first grade and kindergarten pod getting Chromebooks "up and running." She is extremely tech savvy and even when she does not know something off the top of her head, she figures it out! She has helped them make their Clever pages "user friendly" and helped them navigate the bells and whistles of GoGuardian. Diana is a constant go-to person in the pod for tech questions and everyone is very thankful for her!

It is equally important for me to share my appreciation for our cafeteria staff and custodial staff.
Our cafeteria staff worked tirelessly to serve thousands of to-go breakfast and lunch bags when schools were closed in the spring and also ran our annual summer lunch program. Now that schools are open they are serving learners who eat in different areas of the building, and will soon be making lunches available for our learners on Remote Wednesdays as well as learners enrolled in one of the district's online programs.
We were able to open our doors to staff and learners this year because of the dedication of our custodial staff. These staff members have done extra cleaning, moved furniture, hung additional hand sanitizer dispensers, and a host of other things to ensure that our buildings are safe and were ready to welcome back our learners and staff. At the elementary level we are also cleaning our playgrounds between every grade level. Here you can see our day custodian, Mr. Gembe, outside with the backpack sprayer applying cleaning solution to the playground equipment. This process takes about 20 minutes and he does it six times per day!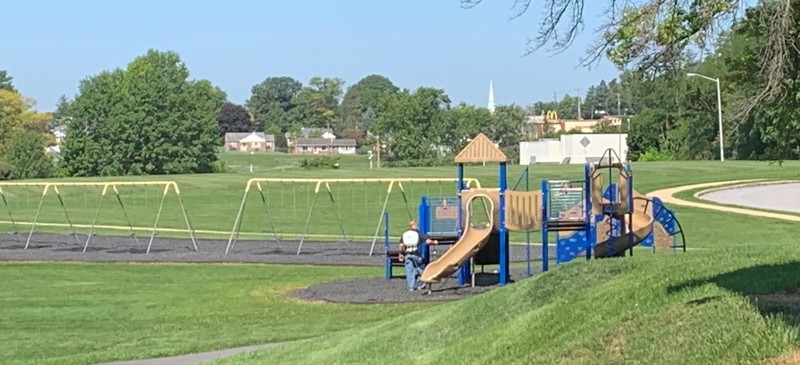 I would be remiss if I didn't share special appreciation to our building secretary, Mrs. Pam Ebersole. Throughout the trials and tribulations of life, Mrs. Ebersole has remained a consistent, positive presence in our main office. She has fielded numerous phone calls and emails, has helped me stay organized, and has been the Summitview face for families who opted for online learning when picking up materials, in addition to all the things she normally does to support the opening of the building.
Finally, I would also like to share my appreciation for our families. You continue to be our partner in educating our learners. This year more than ever I have appreciated the families who provided donations to our classrooms to assist us in cleaning. Additionally, I thank our families for being extra cautious when their child has one of the symptoms that may indicate COVID-19. Thank you for your vigilance in monitoring their symptoms, keeping your child at home, and communicating with our school staff.
When we welcomed staff back in August I told them that our unofficial theme of the year was "We're All in This Together." Every staff member, parent, and learner is going about their school day a bit differently this year. I have felt such tremendous joy every day for the past two weeks. That feeling comes from the understanding that we have a common goal and everyone in our school community has taken on the necessary changes in a positive way.
I am sad that we aren't currently able to allow volunteers and visitors into our schools. Our greater school community is therefore missing the joy I can see in each learner's eyes. Even behind a mask or face shield I can see that our learners are happy! They greet me and other staff members with enthusiasm, sharing waves this year instead of hugs and high fives. As a community member I've had the opportunity to see many families in our school community over the past two weeks. Each time I've received words of kindness, encouragement, and thanks. Know that these words are very important to me and our staff and are very much appreciated!
Thank you for taking the time to read my reflections. Now more than ever I am so proud to call Waynesboro my First Choice. #BoroStrong!